09 Feb

Carlsbad Bee Removal Services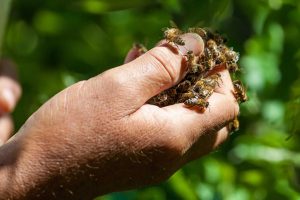 A bee infestation in the home can be a structural and health hazard. Bee hives can damage the structure of walls and roofing in the home, depending on location, as well as cause physical pain or allergic reactions due to bee stings. It is important for home owners to have a bee infestation handled by professionals to ensure proper removal and repair assistance. At Riverside Bee Removal Pros, we offer Carlsbad home owners the best in live bee removal services, without the assistance of harmful pesticides.
Our Carlsbad Bee Removal Services Include:
Live Bee Removal
Bee Hive/Honey Comb Removal
Repairs for the home
Live Bee Transfer
Bee Proofing
Bee Removal Repairs
Our Carlsbad clients are often surprised as to just how much a beehive can damage the home. Our bee removal experts know how to remove the bees and entire bee hive, then repair the home as needed. It is important for the structure of your home to stay intact. Without proper repair service, the integrity of your home is in question. At Riverside Bee Removal Pros, we focus on offering only the best repair service options, ensuring your home is back in good working order in no time. You will not even be able to tell where the work was done, once we are through!
Bee Proofing
An important part of the live bee removal process is bee proofing. Bees have a strong sense of smell and can easily detect the home of a former hive. With our bee proofing services, any new colonies of bees will be unable to find the spot where the hive once was. We use a special oil-based sealant and fill in all cracks and holes, so bees are unable to infiltrate your home in the future.
Our Apiary
Because we offer a live bee removal service for our Carlsbad and surrounding area customers, we have to have a location where the bees are moved to. At Riverside Bee Removal Pros, we have created a live apiary where the bees are able to thrive. The bees are relocated here, to a place where they can begin pollinating within our local ecosystem once again.
In California, the pollination process of bees is essential to the success of our food supply. The farms of California provide a large quantity of the food supply for the US as a whole, and pollination helps with this process. Our live bee removal services are essential to keep bees working and helping the environment.
When you have a bee infestation in your Carlsbad home, contact our experts at Riverside Bee Removal Pros. We are ready to assist you with removal, repairs and proofing services.