14 Aug

Murrieta Bee Removal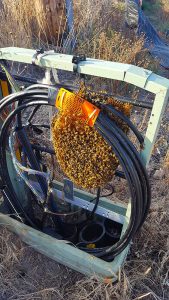 Do you have a bee infestation and need bee removal services in Murrietta? Call Riverside Bee Removal Pros for help! We specialize in live bee removal that's done humanely without the use of pesticides. Don't exterminate! Bees are an incredibly important part of Southern California's ecosystem and our bee removal process will simultaneously benefit your home and the environment.
Servicing Murrieta and the surrounding areas, our bee removal experts will help solve your bee infestation problem while ensuring the bees are able to help pollinate our local community by transferring the hive to our very own apiary.
Riverside Bee Removal Pros provide the following services:
Live Bee Removal
Honey Comb/Bee Hive Removal
Bee Removal Repairs
Bee Proofing
Bee Transfer (to local apiary so they can thrive)
Bee Removal Repairs
Whether the bees have caused damage to your home, or reaching the hive to remove them requires structural access, Riverside Bee Removal Pros can provide repair services to make your home like new again. Once our Murrieta bee removal repair specialists are finished, you won't believe the bees were even there! Riverside Bee Removal Pros assess repairs that are needed and provide an estimate for your approval. We pride ourselves in the bee removal repairs we provide, so much so that we offer a satisfaction guarantee!
Bee Proofing
Now that bees are no longer a problem for your home, it's time to make sure they don't return. Riverside Bee Removal Pros are experts in bee proofing, sealing up every gap, crack and hole, making it impossible for bees to become a problem for your home ever again. Even further, our professional Murrieta bee proofing experts spray an oil-based sealant that stops bees from smelling their way back into your home.
Bee Transfer
California provides approximately half of the United States' food production, therefore bees are incredibly important to our state. Helping pollinate our food and crops, bees need to be able to live long, happy and healthy lives. Riverside Bee Removal Pros bee removal process is done humanely, without the use of pesticides or poison. After the honey bees are removed from your home we transfer the colony to our local apiary so our local community's ecosystem can benefit. Riverside Bee Removal Pros prides itself in the way it solves your family's bee problem while helping the local environment.
Contact Riverside Bee Removal Pros today! We provide fast and quick service, with our experts handling your bee problem as fast as possible. Get professional live bee removal help and your home will be bee-free in no time.